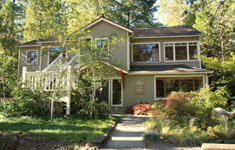 Melas Energy Engineering a small engineering firm located in the Sierra foothills.
Our proximity to Sacramento, the Bay Area and the Sierra Mountain regions allow us to  offer a wide range of services to a wide range of clients.
Michael Melas
As principal owner of Melas Energy Engineering, Michael is responsible for the technical direction of mechanical system design including HVAC, plumbing and alternative energy systems.
Michael has over 30 years of experience including but not limited to: innovative and conventional mechanical design for new construction and remodeling of schools, health care facilities, office buildings, retail centers, and residences.
He has provided evaporative cooling analysis and design for residential and commercial facilities, energy audits for schools and small commerical buildings, and training and instruction to county officials.
Chris Miller
Chris is the staff mechanical engineer at Melas Energy Engineering. He is also CABEC CEA certified, HERS certified, and he's a certified Green Point rater as well.
Chris is responsible for mechanical system design and analysis, including HVAC, radiant hydronic heating systems, and alternative energy systems.
Additional responsibilities include energy analysis, energy compliance, LEED building compliance, subsidy and rebate building compliance, load calculations, solar thermal design, and passive solar design and consultation.